Reading Month has come and gone, and so has another successful Truckload of Books contest. With one year under our belt and the support of our amazing partners, over the first few weeks of May we will be delivering 45 Tonka-size truckloads of books to teachers and students all across the state.
The random winners will receive 14 books about construction, building, architecture and engineering that best fit their classroom's reading level. Michigan Construction's goal is to get more construction-related books into Michigan classrooms and in front of young readers. We are proud to provide these books to a range of Pre-K to 4th grade classrooms all over the state.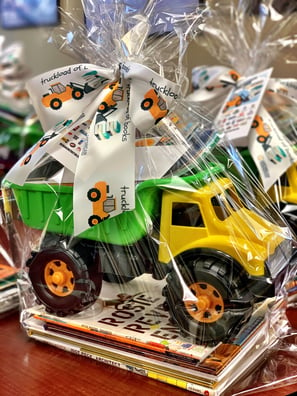 Every teacher who entered our Truckload of Books contest is a winner. All 700 teachers who entered will receive one free construction-related book for their classrooms. In total, we will give away over 1,300 books across the state.
All of us at Michigan Construction, as well as our partners, believe it is important to get in front of children at an early age to both educate and get them excited about the possibilities of careers in the construction industry. Over the next few weeks our supporting construction companies all across Michigan will be personally visiting local classrooms to deliver the winning truckloads and engage with the kids as a special guest reader.
Without the support of our Truckload Sponsors and Free Book Sponsors, we would not have been able to give away more than four times the number of truckloads than we did in 2018. See below for a list of those sponsors as well as the 2019 Truckload of Books contest winners!
If you have any questions about the program please email Heather Smith at: heather@michiganconstruction.com
Check back in January 2020 to enter next year's Truckload of Books contest.
| | |
| --- | --- |
| Classroom | School |
| Henderson | Amerman Elementary |
| Buckley | Arborwood |
| Nora | Aspen Ridge Elementary School |
| Pavlawk | Auburn Elementary |
| Ockert | Baldwin Heights Elementary |
| Astalos | Bennie Elementary |
| Paholak | Beverly Elementary School |
| Stoll | Big Rock Elementary School |
| Wirth | Brown |
| Montgomery-Thibault | Brown Elementary |
| Crankshaw | Burns Park Elementary |
| Novak | Coleman Community Schools |
| Frydrych | Collins Elementary |
| Laverty | Farwell Elementary |
| Jenks | George Long Elementary |
| McMillen | Gier Park Elementary |
| Hahn | Grant |
| Abbs | Grass Lake |
| Strohpaul | Grayling Elementary School |
| Woodruff | Great Oaks Elementary |
| Jones | Harrington Elementary |
| Field | Kolb |
| Meyersieck | L'Anse Creuse Public Schools |
| Barker | Lafayette Elementary |
| Eisnor | Lake Hills Elementary |
| Emmons | List Elementary |
| Sinclair | Loon Lake Elementary |
| Bucholtz | MacGregor Elementary GSRP |
| Achinger | Mohawk Elementary |
| Jones | Montabella Elementary |
| Figgins | North Aurelius |
| Charboneau | North Ohio Elementary |
| Fischer | Oak ridge elementary |
| Ambrose | Rosy Mound Elementary |
| Cross | Salina Elementary School |
| Wheeler | Sandusky Community Schools |
| DeAguero | Sherwood elementary |
| Dakin | Southeastern Elementary |
| Hilla | Southwest elementray school |
| Burtchett | Steepletown Preschool |
| Guikema | Stocking Elementary School, GRPS |
| Weingartz | Townline Elementary |
| Fabbro | Vassar |
| Kruse | Vowles Elementary |
| Freedberg | Wilkshire Early Childhood Center |