The Truckload of Books celebration to promote reading and showcase construction careers continues to grow with 1,500 applicants this year, making it the biggest year ever.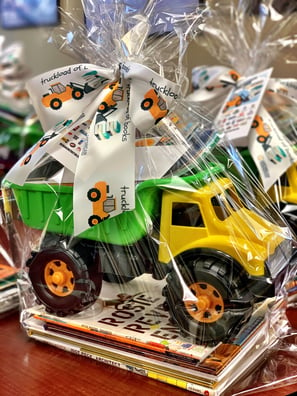 This third year our partner sponsors who made it possible to give away more than 1,500 books about construction, building, architecture and engineering.
All teachers who entered received at least one age-appropriate book. A total of 47 classrooms, selected randomly, received a toy dump truck filled with books.
Due to the cancellation of in person school instruction for the remainder of the school year, books will be delivered to the winning teachers as soon as we can.
In the fall we will connect Michigan Construction partner agencies in the communities to the winning classrooms if they would like a representative from the industry to come to their class and read from the books and answered questions about their work.
"Along with promoting reading, this partnership showcases the great work these companies do to build our communities," said Heather Smith, communications & marketing director for Michigan Construction.
In addition to helping young children learn, they are exposed to the construction industry as a possible career path.
See below for a list of those sponsors as well as the 2020 Truckload of Books contest winners!
If you have any questions about the program please email Heather Smith at: heather@michiganconstruction.com
| | |
| --- | --- |
| | |
| | | | |
| --- | --- | --- | --- |
| Last Name | School | Grade | Community |
| Zarek | Keith Elementary | 2nd | West Bloomfield |
| Leinon | Wakefield-Marensico | Pre-K | Wakefield |
| Plester | Ubly elementary achool | Kindergarten | Ubly |
| Raether | Rankin Elementary | 2nd | Swartz Creek |
| Bonner | North Branch Elementary | 2nd | North Branch |
| Basse | Ross Park Elementary | Other | Muskegon |
| Schaefer | Dailey Elementary (Beecher Schools.) | Kindergarten | Mt Morris Township |
| Sorg | Arborwood Elementary School | Kindergarten | Monroe |
| Towne | Peace Shelby | Kindergarten | Macomb |
| Siewert | Elva Lynch Elementary | Kindergarten | Lapeer |
| Chartrand | Bennett Elementary | Kindergarten | Jackson |
| Vermeulen | Queen of the Miraculous Medal | 1st | Jackson |
| Sommer | Ironwood Area Schools | 2nd | Ironwood |
| Livingston | Saugatuck Public | Kindergarten | Hudsonville |
| Ingersoll | CollinsElementary | 2nd | Houghton Lake |
| McCabe | bridge academy east | 2nd | Hamtramck |
| Vander Sluis | Grand Rapids Christian | Pre-K | Grand Rapids |
| McVannel | Anderson Elementary | Kindergarten | Grand Blanc |
| Martin | Dowdall Elementary | 3rd | Flint |
| Darley | Dye Elementary | Other | Flint |
| Boegner | Neithercut | 2nd | Flint |
| Garmyn | Torrey Hill Intermediate School | 3rd | Fenton |
| Moore | Michigan Great Lakes Virtual Academy | 3rd | Essexville |
| Bogardus | Greyhound Intermediate School | 3rd | Eaton Rapids |
| Kritzman | Deckerville Elememtary School | 4th | Deckerville |
| Ebeling | Decatur Davis Elementary | Kindergarten | Decatur |
| Newton | Thorne Primary | Kindergarten | Dearborn Heights |
| Kubitz | Long Elementary | Pre-K | Dearborn |
| Faletti | Nowlin Elementary School | 3rd | Dearborn |
| Howes | Thomson/Davison Community Schools | Kindergarten | Davison |
| Talaski | Pierce Elementary | 1st | Davison |
| Hayes | Anna Mae Burdi Early Childhood Center | Pre-K | Chesterfield |
| Neeser | Saint Mary School Charlotte | 4th | Charlotte |
| Ferrell | Parkview Elementary | 3rd | Charlotte |
| Zylstra | Marshall Elementary School | 1st | Byron Center |
| Smith | Barhitte Elementary School | Kindergarten | Burton |
| Weitting | Ellis Elementary | Kindergarten | Belding |
| Bragiel | Washington Elementary | Other | Bay City |
| Steinhaus | Orchard Primary | Kindergarten | Allenton |
| Robertson | Wilkshire Early Childhood Center | 1st | Haslett |
| Hague | Old Mission Peninsula School | 3rd | Traverse City |
| Brimhall | Cole Academy | 1st | Lansing |
| Marshall | Meadowbrook Elementary School | 1st | Novi |
| Skowronski | Jefferson Elementary | 2nd | Redford |
| Hagen | Siebert Elementary | 2nd | Midland |
| Epp | Woodward School for Technology and Research | Kindergarten | Kalamazoo |
| Bartolacci | North Aurelius Elementry | Other | Mason |