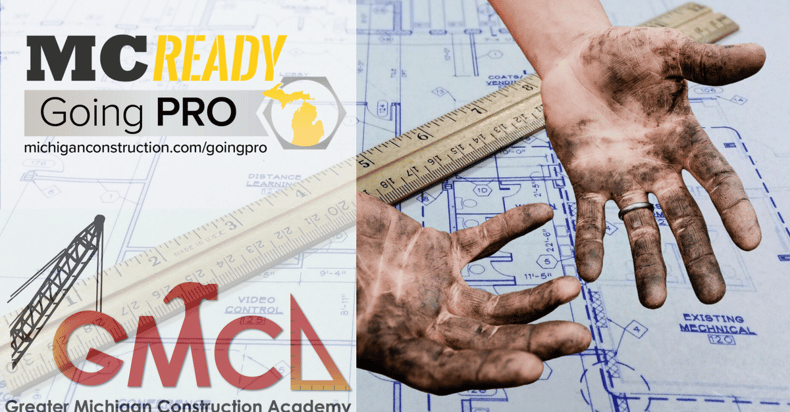 If you lack construction experience but want to gain the skills you need for a successful construction industry career, Michigan Construction can point you in the direction of a variety of training program options. One of those options is the Greater Michigan Construction Academy (GMCA), a Michigan Construction Going PRO Program partner, and one of the state's top construction education organizations.
The beauty of the GMCA programs for inexperienced students is that they begin with the most basic level of construction knowledge, the NCCER Core Curriculum. Even if you have never used power tools, read a construction drawing, or spent time using hand tools, GMCA's Core Curriculum takes you step-by-step, helping you begin to understand and use a variety of construction industry essentials. Here's a rundown of each module of GMCA's Core Curriculum and what it has to offer aspiring craftsmen and women:
Basic Safety
In construction, few things rank higher in importance than safety. Being safe on a work site, safe getting to and from work, working safely in the office, and looking out for the safety of coworkers is paramount across the industry. State and federal laws are in place to protect workers, and they require initial and ongoing training. This 12.5-hour module reviews accident causes and avoidance, personal protective equipment, information about working at heights, and safety skills for work environments with particular hazards like welding, confined spaces, and others.
Introduction to Construction Math
Every industry uses math in some way and construction is no exception. But even if you aren't a math whiz, this 10-hour module will help you understand how math is used in the different construction trades, and will review different measurement systems, basic geometry, and decimals and fractions.
Introduction to Hand Tools
Across the millennia, hand tools have been used to literally build the world, and they are still essential to construction in the 21st century! This 10-hour module provides an overview of hand tools used for different construction crafts, how to use them safely and effectively, and how to maintain them for long use.
Introduction to Power Tools
Without power tools, construction could not keep pace with the needs of modern society, so this 10-hour module is essential. Students learn about a variety of essential power tools, safe usage practices, and basic maintenance steps.
Introduction to Construction Drawings
Construction drawings look pretty complex (and confusing!) to the untrained eye, but this 10-hour module will explain basic terms and symbols, common types of drawings, and how to interpret and use drawing dimensions.
Introduction to Basic Rigging
A fundamental skill set for many construction workers, this 7.5-hour elective module explains basic rigging and associated hardware like hoists, rigging hitches and slings, and addresses safety when rigging is in use.
Introduction to Materials Handling
Construction materials are extremely diverse, and many require special knowledge when handling to avoid injury or property damage. This 5-hour module looks at safety and the commonly used construction materials handling equipment.
In addition to construction-specific training, the GMCA's Core Curriculum also provides instruction for skills that will serve students throughout their lives and careers. These include:
Basic Communication Skills
Communication is a key to success in construction and this 7.5-hour module teaches how to improve both written and verbal skills, as well as the effective use of phone and email. Also emphasized is the importance of reading skills.
Basic Employability Skills
In addition to construction skills, employers want to also hire workers with abilities like problem solving and critical thinking. This 7.5-hour module explains the many different options in construction careers, examines necessary social skills and examines common construction industry computer systems.
The GMCA's Core Curriculum is a fundamental building block of a great construction training program with more advanced training in 12 specific fields including carpentry, electrical, HVAC, industrial maintenance mechanic, instrumentation, insulating, ironworking, millwright, pipefitting, plumbing, sheet metal, and welding. This curriculum is nationally accredited, available at certified training centers across the country, and is transferrable, so credits you earn anywhere will follow you everywhere.
Michigan Construction READY Going PRO Apprenticeship Readiness Program is looking for individuals who are interested in building their construction skillset so that we can pay you to get trained. In addition to NCCER Core at GMCA, you'll go through training at Lansing Community College, the Michigan Infrastructure and Transportation Association (MITA), AIS Heavy Equipment Training Institute and the Michigan Concrete Association. For more information, read our program announcement blog, download the full program description, or click below to Go PRO.