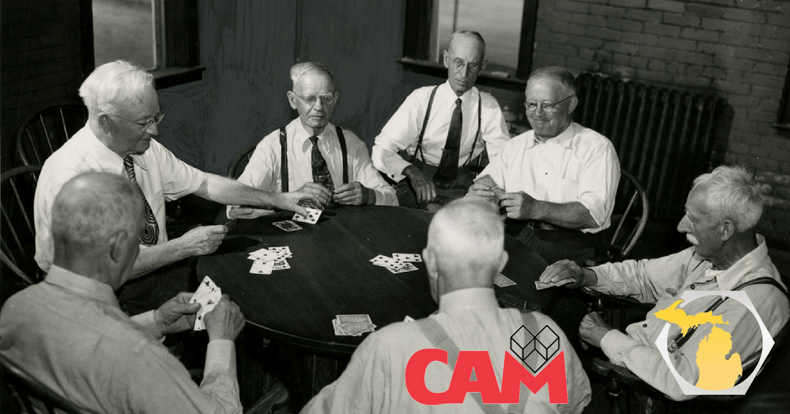 In a time before Ford made automobiles, prior to Edison perfecting electric lights, and when the U.S. Postal Service was experimenting with salaried mail carriers, contractors assembled in various locations, mostly to play cards or checkers, and informally discussed construction projects.
Eventually, they recognized that their future success was dependent upon creating a better way to disseminate information. It was during this period, in the late 1800s, that Builders Exchanges started popping up all over the country. The first of its kind was opened in 1862 in Nova Scotia, Canada.
Michigan soon followed with the Builders' and Traders' Exchange in 1885. The first exchanges served two purposes: (1) A reporting service designed to inform contractors on which architects were drawing plans, who was taking bids, which contractors had been awarded contracts, and how that was progressing; and, (2) To utilize social interactions to legitimize business contacts (i.e., making it perfectly acceptable to continue discussing business over cards and checkers). Each day at noon, men gathered at the Exchange to hear the clerk read the bulletin, outlining the area's construction news.
Since its inception, the Exchange has evolved and adapted with the industry trends and implementation of technology. From installing the office telephone in 1895 to being one of the first exchanges to make plans available "electronically," the Builders Exchange of Michigan, now known as the Construction Association of Michigan (CAM), continues to support the foundation upon which the membership is built: superior construction project reporting and business networking opportunities.
Over the years, other departments have been added to augment the services offered. They include publication of the first Construction Buyers' Guide in 1905, the 1936 opening of the School of Estimating (now known as CAMTEC), the introduction of CAM Magazine (formerly known as The Exchanger) in 1980, the Michigan Construction and Design Tradeshow, and most recently, the addition of Labor Relations services (2002) and CAMSafety (2005).
In 2017, CAM partnered with Michigan Construction to unify the industry, bring attention to construction careers, and develop a strong and skilled workforce. In addition, CAM is actively involved in shaping legislation to benefit the construction industry.
Today, CAM is membership is comprised of general contractors, subcontractors, equipment and material suppliers, and service providers, like design firms, architects, attorneys, financial advisors, and others.
For more information on becoming a CAM Member, call (248) 972-1000 or visit www.cam-online.com.
Michigan Construction is solving the construction industry's growing labor problem and working everyday to bring more skilled workers to the jobsite. To join CAM and other industry leaders in the movement to build a better Michigan, visit our partner hub.