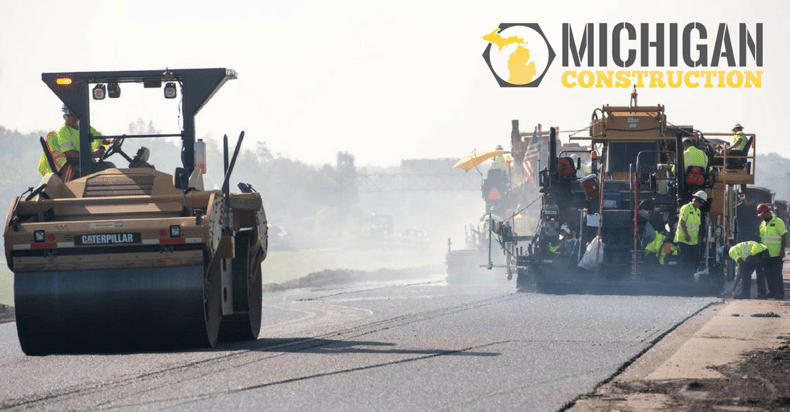 Michigan Construction is proud to partner with Michigan Paving and Materials Company in the movement that is uniting the industry and changing the way people connect with careers in construction. Here is a little history about how this great company began building some of Michigan's most important infrastructure.
America's Largest Asphalt Supplier
If you've driven anywhere in Michigan over the last 50 years, chances are your tires have touched a road that Michigan Paving and Materials has paved. MPM operates six asphalt plants and, with their partner companies Cadillac Asphalt, LLC, and Stoneco of Michigan, operate nine aggregate and materials locations including the largest liquid asphalt terminal in Michigan. With these partners companies working together, their competitive edge comes from having control over the source and quality of the aggregates and liquid asphalt cement for every job they do. Bam!
With the capability of producing more than 600 tons of asphalt per hour at each of their plants and access to more than 15 fully-equipped paving crews — Michigan Paving can efficiently handle any size paving project, from parking lots to Michigan's major highways and everything in between.
MPM's Favorite Color? Green
Michigan Paving is proud to be an environmental leader in all aspects of the industry.
Each year they recycle in excess of 1,000,000 tons of old asphalt pavement for reuse in asphalt mixes. Their asphalt plants are in compliance with all applicable air and land quality requirements. They continually strive to be a responsible neighbor in all of their locations by maintaining clean and efficiently-operated plants and equipment.
Award-Winning
When you care, it shows. Michigan Paving and Materials recently won the Diamond Terminal, Diamond Achievement and Diamond Quality Awards for excellence in plant operations, quality, environmental responsibility and safety. They also are routinely recognized for exemplary community involvement and support of local organizations and events like the Monroe, Barry and Allegan County Fairs. Their award-winning safety record demonstrates a long-standing commitment to producing high-quality materials that puts employees' safety first. Michigan Paving and Materials was in the news for "paying it forward" by picking up the tab for random shoppers during the holiday season. This charitable gesture is a small testament to Michigan Paving's commitment to serving and giving back to Michigan as they work to pave the way to a prosperous future for us all.
To see current job openings and learn how you can join the team at Michigan Paving and Materials, don't worry about driving. Just click the link below.