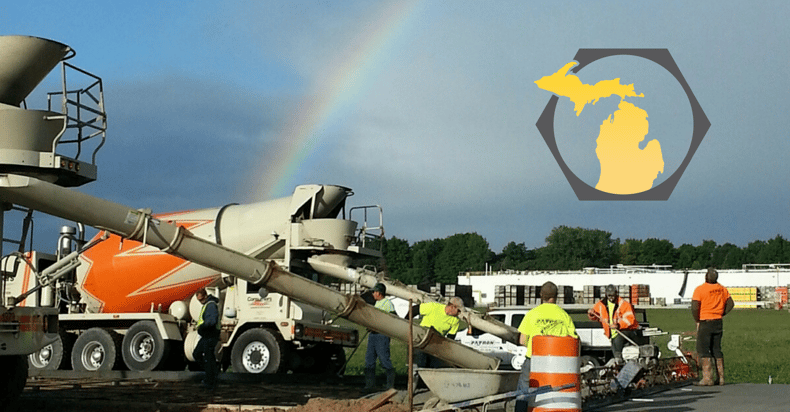 Consumers Concrete Corporation is a Michigan construction institution providing a range of products and services since 1933. Now in its' 85th year of continuous operation, Consumers Concrete has changed and expanded to operate 22 ready mix plants and 3 concrete products manufacturing locations and operates 4 concrete products stores in Kalamazoo, Lansing, Battle Creek and Wyoming, Michigan.
Their ready-mix group operates 22 strategically placed plants throughout West Michigan. From Fremont to Benton Harbor, Kalamazoo, Lansing, Grand Rapids and the West Michigan lakeshore, they have the resources and expertise to supply concrete for commercial, industrial, institutional, residential and transportation projects. Consumers Concrete has a full-service quality control department, professional sales staff and a state of the art customer service center dedicated to accurate order taking and on time deliveries.
Consumers Concrete has developed exciting branded concrete designs that add real value to their customers projects. Their Artevia line of decorative concrete including the very successful Artevia Polish mixes set the standard for quality in Western Michigan. Additionally, Agilia Self-Consolidating Concrete (SCC) and Hydromedia pervious concretes offer the advantages of easier placement and higher performance at a cost within market standards. Consumers has long supported the "green initiative," supporting numerous LEED certified projects throughout West Michigan and Northern Indiana.
Consumers Concrete manufactures a complete line of standard concrete block and architectural block at their main manufacturing facility in Wyoming, Michigan. Landscape products including segmental retaining walls, concrete pavers and an exciting array of outdoor kitchens, fireplaces and water features are manufactured at the Kalamazoo and Battle Creek locations.
Consumers Concrete has developed successful brands in architectural block that have been used throughout Michigan and as far away as upset New York and the Little Havana neighborhood in Miami, Florida. Their recognized Perma Grind and BellaBrik brands are used on all types of commercial, industrial and institutional projects and their split faced product is the standard for quality and consistency in Michigan.
The Consumers Concrete Landscape Group manufactures Rockwood and Allan Block segmental retaining walls. They also manufacture the Redi-Rock retaining wall systems including their exciting new Magic Block line. The concrete pavers manufactured by Consumers are used on residential, commercial and streetscapes throughout Michigan and Northern Indiana.
Accessory products like re-bar, form tube, sealers, expansion joint and other items commonly used by concrete and mason contractors are readily available at their stores and many of the concrete plants.
Locally owned since its founding, Consumers Concrete Corporation has continued to grow and adapt to the ever-changing construction industry. Consumers Concrete is building a better Michigan in more ways than one: As a partner with Michigan Construction, they are helping to change the way that people connect with jobs in construction.
With respect for their past and always looking toward the future, you can feel confident they are The Company to Trust When the Concrete Matters.