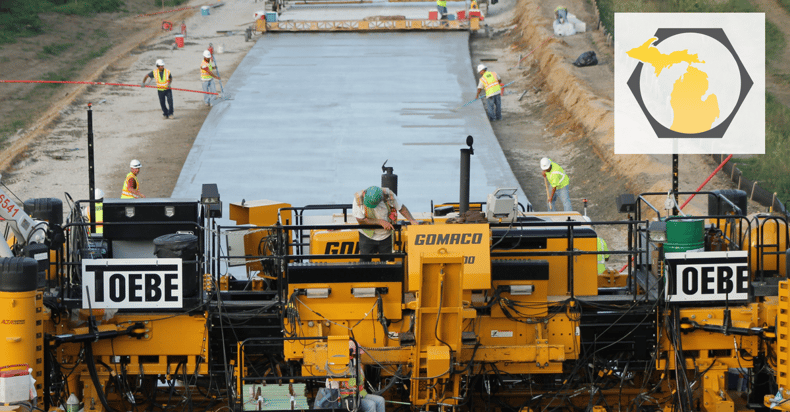 Toebe Construction, LLC is a Michigan-based heavy civil contractor serving clients in both the public and private sectors. Started in 1922 by Walter A. Toebe as a small bridge-building firm, today the company is an industry leader specializing in the construction and rehabilitation of bridges and other concrete structures, high-production concrete paving, excavation, and underground work. No matter the challenge, from a fast schedule to innovative construction method, Toebe professionals adhere to the highest standards of quality, safety, and integrity to deliver exceptional value to every stakeholder. Toebe takes great pride in building some of the most complex and challenging projects in the state.
Construction Capabilities
Toebe's project delivery methods include design-bid-build; design-build; construction manager general contractor (CMGC), and hard dollar – lump sum/unit price. Areas of expertise include:
Bridges — Extensive bridge experience in all types including freeway, marine, rail road, and complex, movable, and cable-stayed structures.
Structural Retrofitting — Major bridges / trusses.
Mainline Concrete Paving — Interstate freeways, state highways, county and city roads, pavement patching, thin concrete overlays, airport runways and aprons.
Excavation / Underground / Sitework – Utilities, Land Balancing
Erection of Steel and Pre-cast Concrete Structures
Heavy Total Demolition / Specialty Removals
Foundations – Concrete / Piling
Pump Stations
Cast-in-Place Retaining Walls/Mechanically Stabilized Earth Wall Systems
Precast Sound and Screen Walls
Approaching 100 years in business, Toebe is still building the transportation infrastructure that supports the economies of Michigan and Ontario. Continuing the traditions instilled by Walter Toebe himself, the company is carried out today as a third-generation family-owned and operated business. Toebe's mission to deliver exceptional value and quality to the project owner, while maintaining a safe and positive environment for their employees, the motoring public, and the residents of the communities in which they work.
Toebe is building a better Michigan in more ways than one: as a partner with Michigan Construction, they are helping to change the way that people connect with jobs in construction. Toebe Construction continues to grow and seeks committed and knowledgeable professionals to join the company. To learn more about jobs with Toebe Construction, click below.