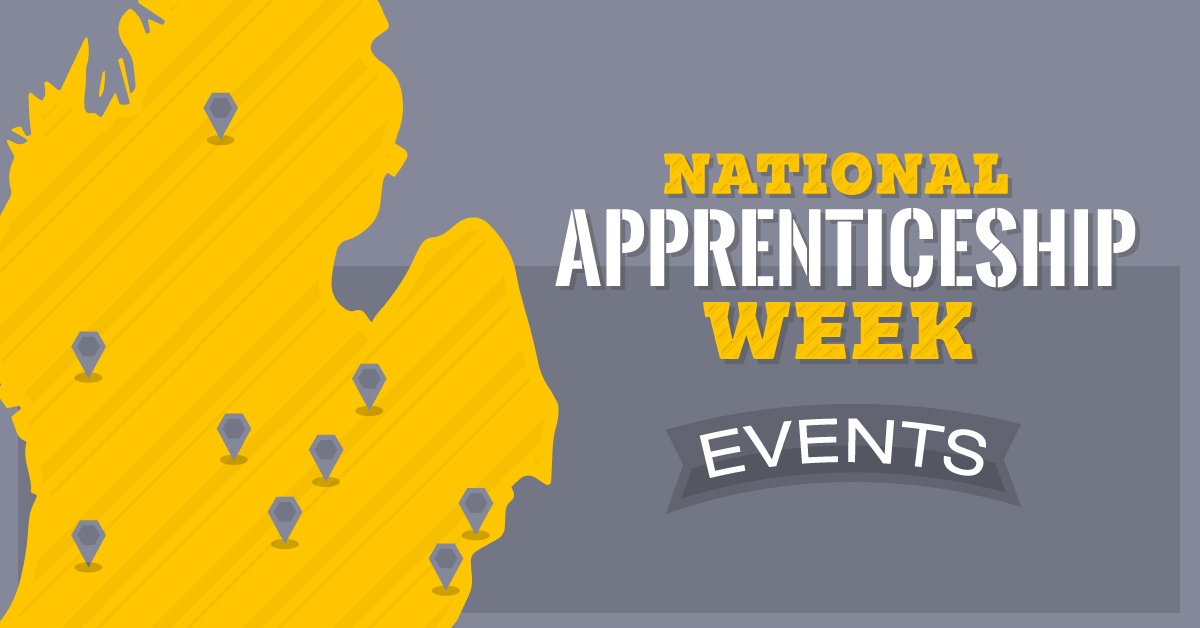 National Apprenticeship Week 2019 is being celebrated from November 11-17! This annual celebration is now in its fifth year, and is the perfect opportunity for students to find apprenticeship programs, learn about career opportunities and network with other young apprentice professionals interested in skilled trades. It's also a great time for construction business owners to consider incorporating an apprenticeship program at their company, or implement new classes to the current program. Here are a handful of the public events throughout Michigan to considering attending.
Apprenticeship Lunch & Learn
Learn how registered apprenticeships can fill the skilled trades gap at Northwestern Michigan College's Apprenticeship Lunch & Learn. Presenters will focus on how to start a registered apprenticeship program and how to select appropriate classes for students and employees. For more information, contact Amy Burns Bailey at aburns@nmc.edu.
Host: Northwestern Michigan College
When: 10 a.m. - 12:30 p.m. on Thursday, November 14th
Where: 2525 Aero Park Drive, Traverse City, MI 49686
Intended for: Business Owners & Leaders
Career Pathways Networking
Deciding what career best fits you and your goals is hard. That's why Delta College is hosting a career building and networking event from 8 a.m. - 12 p.m. for high school students and professionals. This event is open to the public. Students will have the opportunity to ask questions of each other in the hopes of finding a perfect career fit. For more information, email careerservices@delta.edu or call 989-686-9072.
Host: Delta College
When: 8 a.m. - 12 p.m. on Friday, October 8th
Where: 1961 Delta Rd., University Center, MI
Intended for: Students
Career Pathways Day
Berrien, Cass and Van Buren County students are invited to attend this interactive, hands-on event to explore career and apprenticeship opportunities in the southwestern region of Michigan. Learn how your employment journey begins with Career and Technical Education in high school, and continues with post-secondary opportunities. Contact Erin Venno at vennoe@miwork.org for more information.
Host: Michigan Works! Berrien-Cass-Van Buren
When: 8 a.m. - 2 p.m. on Friday, November 15th
Where: 1100 Yore Avenue, Benton Harbor, MIz
Intended for: Berrien, Cass and Van Buren County students
National Apprenticeship Week Counselor Open House
Students can get hands on training with operating equipment, learn about new technologies and talk to instructors and apprentices currently active in their trade during this open house! Industry professionals from all different fields will be onsite to network with and learn from. Professional organizations attending include: Operating Engineers 324, Ironworkers Local 25, Michigan Regional Council of Carpenters, Michigan Bricklayers and Allied Craftworkers, Michigan Building and Construction Trades and MUST. Contact Lee Graham at lee.graham@324lmec.org to learn more and RSVP.
Host: Operating Engineers 324
When: 8 - 11:30 a.m. on Wednesday, November 13th
Where: 275 E. Highland Road (M-59), Howell, MI
Intended for: Students
Michigan Woman in Apprenticeship Day
Join the National Association of Women in Construction's Lansing chapter on November 13th to celebrate the women participating in apprenticeships across Michigan. Demonstrations of drones on constructions sites will be presented by Operating Engineers 324 and SiteAware. Contact Barbara Strachan at bstrachan@agcmichigan.org for more information.
Host: Lansing NAWIC Chapter
When: 4:30 - 6:30 p.m. on Wednesday, November 13th
Where: 275 E. Highland Road (M-59), Howell, MI
Intended for: Students and Educators



Apprenticeships 101

Capital Area Michigan Works! will be hosting a presentation on how apprenticeships can meet training needs for local businesses. Contact Jay LaNew at jlanew@camw.net for more information.

Host: Capital Area Michigan Works!
When: 11 a.m. - 1 p.m. on Thursday, November 14
Where:

2110 S Cedar St, Lansing, MI 48910

Intended for: Business Owners & Leaders