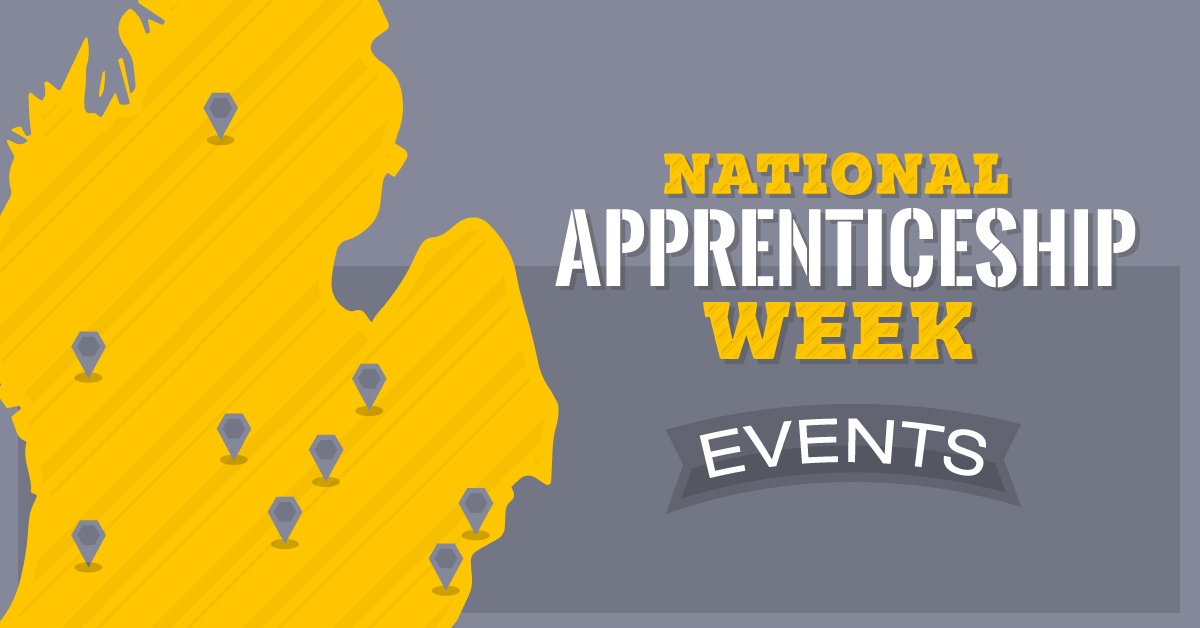 The fourth annual National Apprenticeship Week is coming and each year there's more excitement and more events to attend. Students and employers can spend time together, take tours, learn about apprenticeship options and much more. Here are the public events in Michigan, which are among the hundreds planned nationwide.
Growing Your Own Talent
4800 W. Four Mile Road, Grayling, MI
Host: Kirtland Community College
Date: 11/14/2018
Employers, educators, workers and the general public are invited to join a panel of experts from the Michigan Economic Development Corporation, Michigan Works!, the Department of Labor, Kirtland Community College, UAW, and other leaders from the industry who will discuss the role apprenticeships can play in improving the northern Michigan economy. The panel will take questions from the audience and tours of Kirtland's new Grayling campus will be available. In addition, Russ Davis, Michigan State Director, from the United States Department of Labor will give current updates on apprenticeships for the state of Michigan. Breakfast will be provided.
Breakfast, Bacon & Celebration
151 Fountain St. NE, Grand Rapids, MI
Host: Grand Rapids Community College
Date: 11/13/2018
A celebration of National Apprenticeship Week and apprenticeship partners. The event will include an apprenticeship panel and the Apprenticeship Company of the Year Award will be given.
How It All Fits
6767 W. O Ave., Kalamazoo, MI
Host: Kalamazoo Valley Community College
Dates: 11/12/2018; 11/15/2018; 11/16/2018
Students can get information about connecting with apprenticeship programs and those already in apprenticeships can discuss their RTI's progress and learn about stackable credentials. Companies sponsoring the event can tour the machine labs, as well as the Advanced Technology Center.
More information is available at www.kvcc.edu.
Counselor Open House
275 Highland Road (m-59), Howell, MI
Host: Operating Engineers 324 Construction Career Center
Date: 11/13/2018
Students and others can learn about a variety of trade careers and apprenticeships from industry representatives, try their hand at operating heavy equipment, learn about the latest technologies, and talk to apprentices in different programs. Professionals attending include: Operating Engineers 324, Ironworkers Local 25, U.S. Department of Labor; the Great Lakes Fabricators and Erectors Association, Michigan Building and Construction Trades, and MUST. RSVP to diane.price@iuoe324.org.
Reino Linen Open House
18400 Telegraph Road, Brownstown, MI
Host: Reino Linen Service of Michigan
Date: 11/14/2018
Reino Linen Service of Michigan will host an open house for applicants seeking an apprenticeship opportunity for truck driver-heavy.
Ready. Set. Build! Construction Career Expo
301 Civic Center Drive, Detroit, MI
Host: Detroit Employment Solutions Corporation
Date: 11/14/2018
READY. SET. BUILD! is an informational workforce expo that showcases the skilled trades throughout the construction industry. Job seekers will learn about the various trades through hands-on demonstrations and video presentations. Attendees will also meet union apprenticeship school directors and interact with contractors to learn the process for entering the construction industry. The Expo will provide information about job opportunities available during the construction of Bedrock developments including: the Hudson's Site, Wayne County Criminal Justice Center and Monroe Blocks projects. There will also be workforce training and community support partners onsite to help residents overcome barriers that may limit entry into the skilled trades. Transportation will be provided to and from COBO Center to multiple locations and preregistration is encouraged but not required. All information is provided at http://www.readysetbuildexpo.com/.
For more information, the U.S. Department of Labor's website has a national map of events.