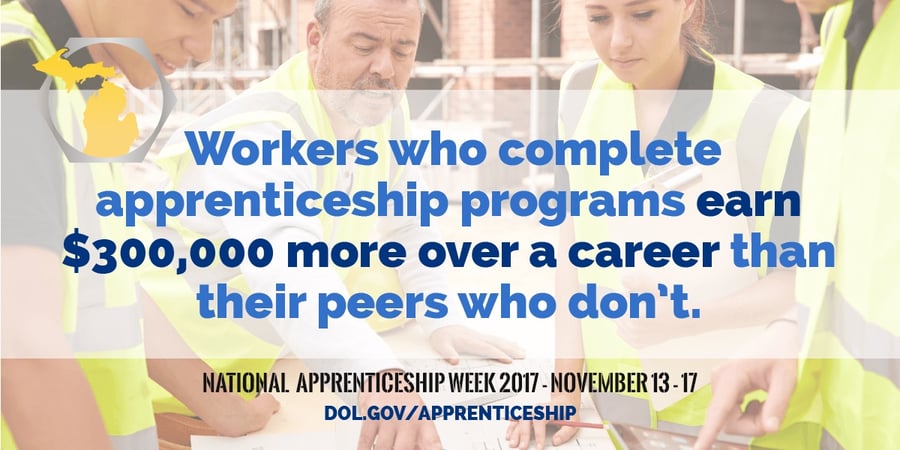 Have you ever wondered what it would be like to participate in an apprenticeship program instead of attending a college or university? National Apprenticeship Week (NAW) is targeted towards people just like you — to help you discover what can be achieved with the #other4yeardegree. During last year's NAW, more than 300 events took place in 47 States. NAW 2017 will be even bigger, with almost 400 events planned — 32 of those will take place right here in Michigan. Here are a few we think you should check out.
2nd Annual Apprenticeship Expo
November 14, 2017
4:00pm - 7:00pm
Randolph Career and Technical Center, Detroit
17101 Hubbell, Detroit MI 48235
The goal of the Expo is to help people find a gateway into Apprenticeship programs. The event will feature hands-on exhibits in several skilled trades, allowing attendees to experience how people do their jobs as carpenters, electricians, bricklayers, masons, iron workers, roofers, and welders. Simulators for heavy equipment (truck) operators, virtual design computers and apprenticeship resources will also be part of the Expo. View Invitation
The Partnership for Diversity and Opportunity in Transportation is the local clearinghouse for all 2016 Detroit area apprenticeship events.
DC1M Apprentice School Open House
Finishing Trades of the Great Lakes
November 14, 2017
12:00pm
DCM1
14587 Barber Ave, Warren MI
This event will provode a tour of the facilities, demonstrations of the different trades they instruct and answering questions.
#GoingPROinMI with Registered Apprenticeships Webcast
Michigan Talent and Investment Agency
November 14, 2017
1:00 pm
Webscast
Webcast Hosted Via Facebook Live on TIA's page.


Michigan Construction
Michigan Construction will be celebrating National Apprenticeship Week by using our Facebook page to share apprenticeship and spreading news about how apprenticeships are changing the way the next generation views their post-high school options.
You can join in the celebration by changing your own Facebook and Twitter headers to match ours and by sharing your apprenticeship stories with us using #other4yeardegree and #bluecollarlife.
You can also stay in the loop on apprenticeships by subscribing to our blog or mailing lists.
For more information on any of these events or to find more events near you click here.