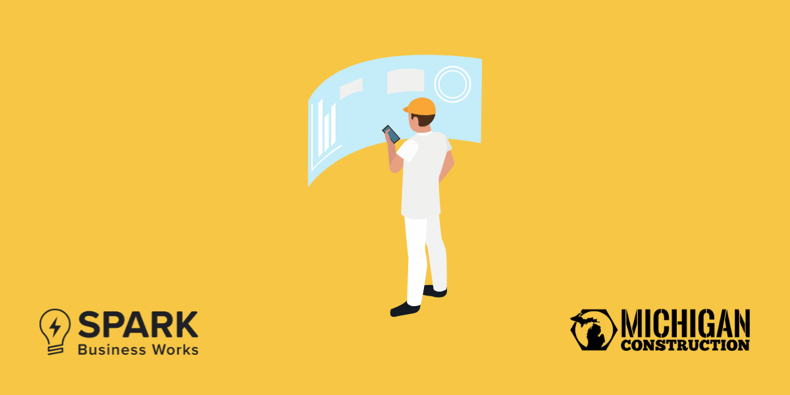 58% of construction leaders expect to see more change in the built industry within the next 5 years than there has been in the last 50 years. It's an exciting time for the industry–leaders are finally embracing technology to stay competitive and prepare for the digital future.
But any digital transformation requires a strategic game plan on how to adopt technology for your crews and projects. And when done right, it can re-shape your operations and culture for the better.
But what digital tools should you use?
Unfortunately, companies often implement the latest tech without thinking about their pain points or current processes.
Instead, we recommend construction leaders focus on practical innovation that solves a need and has visible benefits for your operations. It'll help you choose the right tech that your teams will want to use.
With that mindset, keep reading to learn how to use easy and simple digital tools like CRMs, estimating, and scheduling technology to win more work and kick off jobs.
1: TRACK CUSTOMERS AND DEALS WITH A CRM
For most businesses, your most valuable asset is your customers. But how well do you know them? Where do you keep their project details or contact information?
At first, you might keep customer or prospect data only in a spreadsheet, email, invoice, or just an employee's head.
But as you grow, these informal processes start to break. What happens if that employee leaves? How do you share important information quickly with others? Do you trust that your data is accurate?
Growing businesses come to a point where they need to replace these processes with a Customer Relationship Management (CRM) system. A CRM serves as a central location to organize all data associated with your customers, prospects, and partners.
A CRM helps you track:
Who your customers are
Project details and status for each job
Pipeline of new business opportunities and sales team management
Interactions with customers, prospects, and partners
It also gives you insights into:
What projects you should pursue based on what has worked in the past
Where your work comes from
What types of jobs and leads are the most profitable
A CRM is a critical tool for any digitization effort. It gives you an effective and efficient way to track new opportunities and keep teams aligned on all customer communication.
See how you can use a CRM alongside other modules in an all-in-one business management platform like SPARK Select.
2: AUTOMATE ESTIMATING & GENERATE PROPOSALS
Project estimating is a constant battle. Estimate too high and your bid won't win. Estimate too low and you jeopardize your margins.
And it's a time-consuming process. Most teams rely on manual processes like paper and spreadsheets that take days or even a week to complete. But the reality is that you won't win most of the projects you take the time and effort to bid on.
To streamline part of this process, construction businesses are turning to estimating software, which estimates costs for a specific project by automatically calculating the quantities and cost of materials, equipment, and labor.
Automating estimating makes it easier and faster by:
Building accurate estimates and generating professional proposals
Automatically pulling customer data from your CRM or other systems
Customizing materials and labor lists to your company
Integrating resource planning workflows to automate job set up for kickoff
You won't waste time pulling together the same data repeatedly. You can win and kick off more jobs in less time.
3: ASSIGN AND MANAGE WORKERS WITH SCHEDULING SOFTWARE
Scheduling touches every part of your operations, but assigning workers is complex. You need to take into account each employee's skills and certifications and follow regulations from agencies like OSHA and the EEOC. And a single change (which are inevitable) can impact all phases of a job and its tasks.
But old-school (and common) scheduling practices—like using whiteboards, pieces of paper, and email—cause countless headaches and add risk to completion dates, budgets, and safety. It's also too easy to make mistakes—like double booking—that cost your company.
To digitize, you can invest in scheduling software like mobile apps and operations dashboards to transform how you assign workers and send job information.
With scheduling software, you can:
Configure personalized daily/weekly/monthly views for your teams
Organize worker profiles and availability requirements
Avoid double booking or compliance conflicts
Send mobile alerts of new job assignments
Connect scheduling with time tracking
Construction scheduling software can take the hassle out of planning jobs and increase productivity.
REAL-WORLD EXAMPLE: ANDY J. EGAN CO.
Mechanical contractor Andy J. Egan Co. managed its workforce of 300 skilled employees using a time-consuming system of whiteboards, Post-it Notes, and Excel spreadsheets.
With SPARK's help, they replaced their old ways with a custom solution that automates their scheduling system and tracks employee assignments efficiently. It's accessible 24x7 on mobile devices or large touchscreen monitors.
MORE DIGITAL TOOLS: TRANSFORM HOW YOU EXECUTE WORK
While these tools are easy and simple, they can help you win more work and stay competitive.
Want to see more opportunities for tech? Next week, we'll dive into three more digital tools to use when executing your jobs.
And as we mentioned above, you can't adopt digital tools without a game plan. Download our free checklist below to help prepare your teams for a digital transformation.
---
Do you need a plan for how to digitize your operations?



We developed these steps after helping hundreds of others go through their own digital revolution.
Robert Armbrister is the President and CEO of SPARK Business Works. SPARK builds mobile apps, dashboards, websites, and workflow tools that are just right for the way construction companies work. Robert has helped create everyday digital revolutions for more than 50 trade contractors in Michigan. SparkBusinessWorks.com/Construction