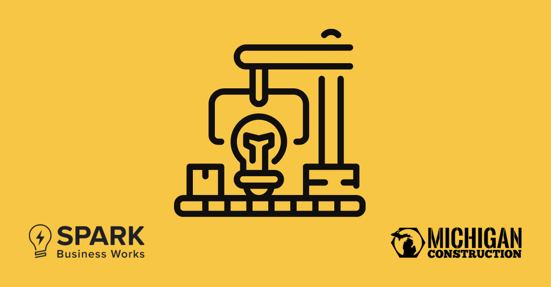 Digital tools are quickly changing today's job sites and operations. Accurate and quick data from your field crew — like their time on a job, equipment used, and overall progress — can improve decision-making, boost your bottom line, and be a competitive advantage.
And, there's no shortage of tech on the market these days to choose from. There's everything from cheap "one size fits all" apps to fully custom and proprietary solutions.
But, it can be overwhelming to choose the right tech for your team. Since it will be an integral part of your daily operations, you don't want it to end up causing more headaches among your field crew and back office.
When evaluating software options, let's look at how off-the-shelf apps can fall short and why a semi-custom solution could be the right fit for you.
Off-the-Shelf vs Custom-Built Construction Software
The last few years have seen an explosion of off-the-shelf construction tech. And when it comes to straightforward solutions like mobile apps and automation, off-the-shelf seems like a fast and affordable way to adopt new tech.
The tradeoff for lower prices? A lack of customization and scalability. You don't get any say in what the software does. If a feature doesn't work like you need it to, then you'll have to change your internal processes to comply with the software's limitations.
If you're just starting out, you might get away with off-the-shelf software for some time. But, you can quickly outgrow these solutions as your processes evolve. After all, no two construction projects are ever the same.
Feeling stuck, many growing trade contractors and construction firms rip these solutions out. You'll have to start your project over again, wasting time and money in the process.
The Benefits of Semi-Custom Construction Software
That's why many turn to custom-built construction software, where you can leverage the opportunity to tailor a solution to your unique processes.
And, custom software projects don't always have to start completely from scratch. Semi-custom solutions combine the best aspects of both off-the-shelf and fully custom software. It utilizes pre-built modules, but also allows for configurations of the functionality.
For example, SPARK's Select software offers pre-built modules for time and field data collection like:
Daily job forms to capture worker/crew time
Tracking of equipment utilization
Automated daily reporting and alerts
Integration into accounting systems
Unlike off-the-shelf software though, you only choose the modules you need and work with the software provider to configure them to meet your unique business requirements. No more changing your business to fit the tool!
For example, two excavation contractors can use the same Daily Job Forms module in their own way. They'll each start with the pre-built fields. Then, they work with SPARK to modify or add fields to accommodate how they each handle their own reporting workflow.
Semi-custom software solutions are a great fit for field and data collection. You don't need to spend tens of thousands on a fully custom solution to see a big impact on your bottom line. Instead, you need simple and flexible technology like mobile apps, dashboards, and automated workflows that can replace the manual spreadsheets and paper forms bogging down your operations.
Many firms are turning to semi-custom tech because of these benefits:
Configurability and Control
While you get the advantage of pre-built functionality, you're not stuck with these features "as is." You'll work with a dedicated software partner that can configure these features to your business needs. Want a text message reminder to go out to your employees each day at 4p so they remember to fill out their Dailies? We can add that!
Cost Savings
Since the solution as a whole isn't proprietary to your firm, semi-custom solutions will have investment ranges typically around ¼ of fully custom projects.
Faster Launch Times
Fully custom software projects can take 6 months to a year to develop. With only modifications to make to pre-built modules, you can launch semi-custom projects in 1 to 2 months. Your team can even "poke around" with the tool a few weeks into your configuration process, ensuring you have buy-in from the people who need to use it.
Proactive Support
With semi-custom software, you'll work directly with your tech partner to make your modifications. This often results in hands-on and proactive support. During the process, they become a partner that's invested in the success of your business because they understand your workflows and what helps you "have good weeks". You won't be one customer out of thousands.
Investing in Tomorrow
Digital field data tools are only the beginning of new tech opportunities. Semi-custom solutions are in an investment in both what you need today and tomorrow. Their flexibility and scalability means the software progresses with you, allowing you to make enhancements and changes as your business evolves.
See These Digital Tools Out in the Field
It's easy to see the benefits of new technology on paper. But, will it hold up out in the field with your crews?
Next, we'll show a real example of how a simple mobile app is helping hundreds of construction leaders ensure the health of their crews and job sites during the pandemic.
Do You Want to See These Best Practices in Action?

CLICK TO REGISTER TODAY!