Matt Heino has worked for M.L. Chartier, an excavation, building and environmental cleanup company, for a little over a year as an operator. What has made his experience in the construction industry so worthwhile is the company he works for. He finds it's important to "find a company that treats you like a person, and who makes sure that you're taken care of." He has found those qualities with M.L. Chartier and loves working in the construction industry.
Before M.L. Chartier, Heino worked changing tires on earth mover equipment for four years. He has always enjoyed heavy equipment and construction work, so Heino knew construction was the best route for him.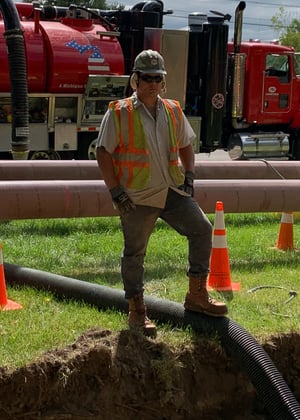 "I've always been around equipment and [have been] used to run machines [since] when I was as young as nine," he said. "The process wasn't really much of a change... [it was] machinery I was familiar with, but hydro excavation was a whole different ballpark."
That didn't scare him, or his future employer. M.L. Chartier let Heino to go in and practice with the trucks to get familiar with hauling a trailer. And they also helped him earn his Class A CDL. Heino can't say enough good things about working with M.L. Chartier.
"I couldn't be anymore happy and glad to come into work for the company I'm at," he said.
When it comes to misconceptions about the industry, Heino wanted to clear the air about the seasonality of the work.
He originally believed the misconception that construction is seasonal and expected to get laid off by his employer in the off-season. But what made him change his mind was working for M.L. Chartier. Yes, a lot of the work in the summertime can be long hours, but it comes with a bigger paycheck and you find a better work-life balance in the "off-season" when there is less work and more time to do things for yourself. However, Heino felt it was important to mention that with M.L. Charter, they care about their employees enough and give everyone 40 hours a week during off-season so no one struggles.
Heino's advice to any young person looking to join the industry would be to find a good company that takes care of you. Many people down grade the construction business, but when you find a good company, you can be very well taken care of. If you can picture it, Heino considers himself to be a guy the average person wouldn't hire because of his gauges and tattoos. But he's found that in construction he can be himself and not be judged.
Although Heino had experience that helped him find success as a machine operator, many companies, like M.L. Chartier provide learning and training opportunities that you can take advantage of no matter your previous work experience. Talk to others in the industry about your hesitations before diving into a position. Many times, what people think about construction isn't how it truly is, and as Heino has emphasized, do your research about the company, because it can make a big difference.
Michigan Construction is here to let people know just how awesome and rewarding a career in construction is. We are always looking for honest feedback from seasoned professionals who love their job and can speak from experience. Click the button below if you would like to share your story with us!