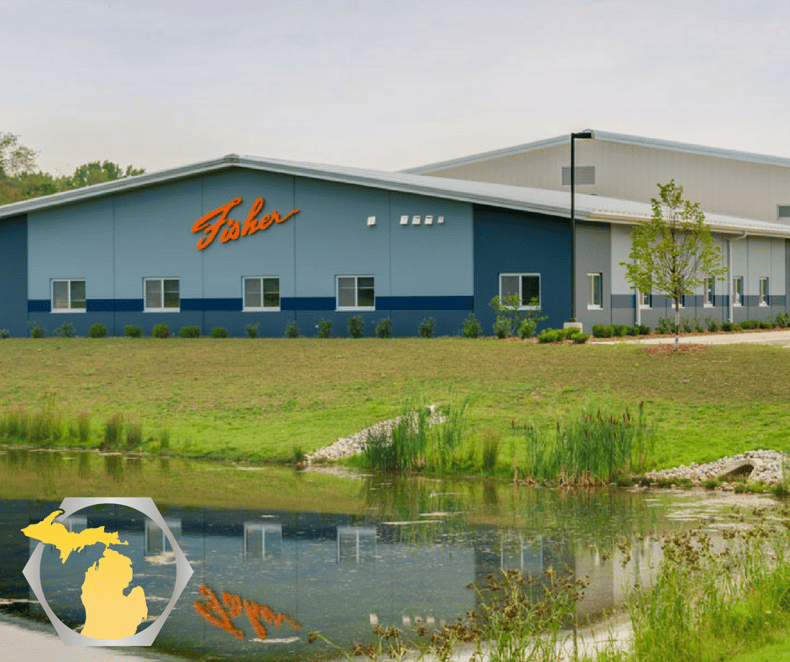 Ralph J. "R. J." Fisher, Sr. and his wife, Zelda, founded the Fisher Companies in 1925 with the start of their first business, Fisher Sand and Gravel, of Midland, Michigan. The couple managed a small farm, and R. J. began to supplement their income with teamster work. By World War I, he operated 14 teams of horses to provide hauling and gravel services for the Dow Chemical Company and Midland County. Together, Zelda, R. J. and their sons Arthur "Bill," James and Ralph "Bud" weathered the Great Depression, labor and material shortages, and World War II, in which Bill and Jim served.
Upon Bill and Jim's return from military service and Bud's coming of age, the brothers purchased and continued to grow the business that their parents established. In the five decades that followed, they would develop the Fisher Companies until, combined, they formed a 400+ employee operation with an annual volume of over $100 million.
To start, the brothers founded Central Concrete Products in 1955 and Alma Concrete in 1960. The companies provide ready mix concrete, sand and gravel, as well as construction supplies and services, to the Mt. Pleasant and Alma areas. These locations were later merged under the Central Concrete Products name for maximum efficiency. In 1957, Fisher Contracting was founded, which provides construction and heavy civil contractor services to a variety of federal, state, municipal, and private clients in the Great Lakes region.
Four more related companies were later added to the mix: Fisher Transportation (1970), which originally hauled bulk cement to the companies' ready mix plants, but has since grown into a major trucking company providing construction-hauling services throughout mid-Michigan; Central Asphalt (1982), which offers a full range of services from residential to major public roadway projects; Bay Aggregate (1983), a major supplier of quarried stone products to the mid-Michigan area; and Midland Engine (1984), a high-end machine shop and heavy equipment dealer.
In summer 2000, Fisher Companies opened Bucks Run Golf Club, a championship golf course in Mt. Pleasant, on the site of a former Fisher Sand and Gravel pit.
To round out the suite of construction-related companies, in 2013, Port Fisher Terminals was the eighth and latest addition to the Fisher Companies. Port Fisher Terminals, Bay City, is a multi-modal port site, offering vessel, rail, and highway transportation services, along with large-scale storage solutions.
Michigan Construction partners are key to our mission of growing and strengthening Michigan's construction workforce and building awareness of the many professional construction career options. We invite all industry members to learn more at The Partner Hub today.