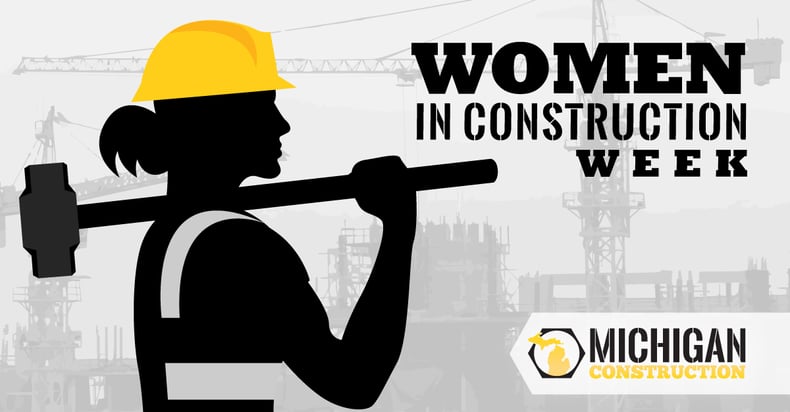 Just over a half century ago, American women saw their husbands, sons and fathers off to World War II and then stepped into their overalls and went to work, taking up the slack for their men in factories, automotive plants and shipyards. And thanks in large part to their willingness and talent, we won that war. But when the men came home, the women almost instantly became irrelevant on their jobs, and were expected to return to their homes, get married and raise families. And they did just that.
Unlimited Opportunity
Today, you, the granddaughters and great-granddaughters of that amazing Rosie-the-Riveter generation are no longer assumed irrelevant. Women now work in all industries from entry-level positions to the C-suite, they effectively juggle family and career responsibilities, and they are making the world a better place for their efforts.
One of the industries now wide open to women is construction, where women not only train and work alongside their male co-workers, they supervise crews, run departments, and own their own companies. And so can you!
Right now, the construction industry is bursting at the seams with positions in a broad range of occupations, any of which can be filled by a woman with the right training and skills. According to the U.S. Department of Labor, Bureau of Labor Statistics, in January 2018 alone, construction employment rose by 36,000, bringing the past 12 month's total to 226,000 jobs! But wait, there's more. Employment within the construction and extraction occupations is projected to grow 11 percent from 2016 to 2026, a gain of about 747,600 new jobs.
Get the Facts
By now you're probably wondering exactly what those jobs are, and Michigan Construction has created a list that covers all aspects of the industry and details the type of person best suited for each job, pay ranges, career paths, and the education/training needed to get there. Here's a sampling:
Carpentry: Do you love tools? From the lowly manual screwdriver to the uber-powerful table saw, carpenters use them all. A career in carpentry starts with a high school diploma or G.E.D. and progresses into an apprenticeship, or other industry, community college, or union training program typically covering three to four years. From there the job takes off beginning with an entry level position that grows into opportunities to advance to crew leader or foreman, and on up to superintendent, project manager, and maybe even business owner. Annual salaries range from $25,000 to $70,000.
Heavy Equipment Operator: If you like precision and comfort combined in a job, operating heavy construction equipment is something you should consider. Like carpentry, this career path begins with a high school diploma or G.E.D., then combines classroom and on-the-job training from select program providers over one to three years. You will need to get a commercial driver's license (CDL) as well. Annual salaries range from $30,000 to $70,000.
Of course, there are also plenty of construction careers for women who want to earn a four-year degree before starting their career. These include engineering degrees in design, construction, civil, mechanical, structural, and other disciplines. These careers usually require college graduates to obtain their Professional Engineer (PE) license after gaining on-the job experience as an Engineer-in-Training. Engineers possess excellent problem-solving skills and love to design, create and analyze. Salaries for engineers typically range from $40,000 to $90,000+ and can increase with experience and post-graduate education.
These are just few of the possibilities available to women who have the desire to be a part of reinventing Michigan, rebuilding our infrastructure and helping our state be the best it can be. If you want to be able to show (not just tell) your children and grandchildren what you did during your lifetime, construction will let you continue the legacy begun by your grandma or great-grandma during WWII. Will you step up like they did?
Learn all the construction industry options available to women at Michigan Construction and get started on career to last a lifetime!