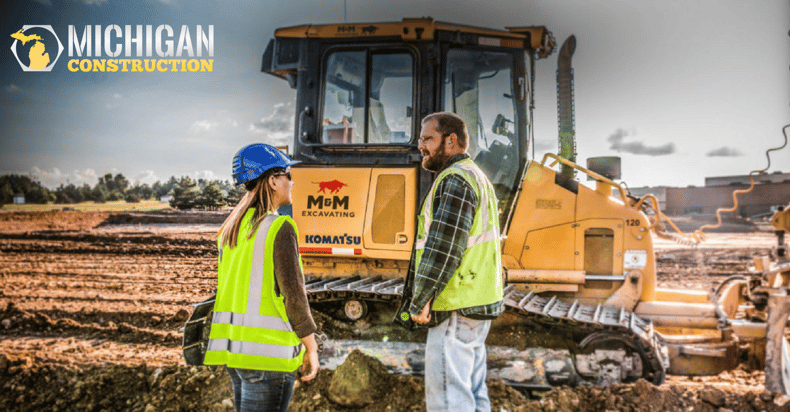 Deciding on a career path can take a lot of work and research to make sure what you train for is something you will love doing for years to come. Wrapped up in that package are other "must-haves," things like a sense of accomplishment, pride in our work, and opportunities to inspire and help others achieve their dreams too.
All those things and more are behind the success of some of Michigan's women in construction; women who decided what they wanted and built great careers in their chosen fields. These women are exceptional and steadfast in their desire to be the best they can be, and they hope more young women will join their ranks in an industry they love. Here's a look at a few of these pioneering Michigan women who have made construction their life's work.
How it Began
As children, most of us think we know what we want to be when we grow up, though few actually stick to it. But Martha Owen did thanks to site visits with her dad.
Owen is a project manager with C.A. Hull Company, and a 25-year construction industry veteran. As the daughter of a project manager/estimator, Owen sometimes traveled with her father to different construction sites, something that helped shape her career decision.
"I loved driving around to different parts of the state, being outside and watching the crews fix the bridges," recalled Owen. "I knew then I wanted to be a part of this industry when I grew up."
Similarly, Megan Chartier, VP of Marketing and Advertising with Hydro-X, was exposed to construction early on as a member of the M.L. Chartier Inc. family. But it wasn't until she returned from college that she realized she would make it her life too.
"I had an overwhelming sense of pride for our company and our community when I dove into the daily operations and really saw what my family had done with very little," she said. "Now, I'm passionate about the people that form our team and the way we impact our surrounding communities with employment, donations, volunteering and over all, raising the bar for other companies!"
Jessica Higgins, an asphalt roller operator with Michigan Paving and Materials Company for 11 years, said she joined the industry for the pay check, and stayed for the feeling she gets with a job well done.
"I've always enjoyed building things whether it's houses or roads," said Higgins. "Hammers, shovels or heavy equipment all contribute to a finished product that is useful to society. I love the feeling of pride and accomplishment when a project is finished."
Meeting the Challenges
For women in any job, there are challenges to be overcome and construction is no exception. One of the most obvious is that women are generally not as strong as men. But, Higgins said, she accepted her "little girl arm muscles" and found workarounds by learning "to adapt so many different techniques to avoid hurting myself over the years!"
Owen said her greatest challenge is managing career and family but that she is making it work with a little help.
"I think the biggest challenge I've encountered so far is balancing being a wife and mother with my job as a project manager. We tend to have long, unusual hours in the highway industry because of lane restrictions and mobility," she said. "It can be challenging trying to run a project (or several) two hours from home while making sure meals get planned, grocery shopping gets completed, team snacks get made or bought, kids get to and from practices/games, etc. I am fortunate to have a helpful and understanding family."
Embracing Accomplishment
Rising to the top, doing the best job possible, and being proud of your work are just a few of the accolades that can be yours in a construction career. And few women will argue the incredible accomplishments of Adrienne Bennett, president and CEO of Benkari, a full-service plumbing contractor. Truly a pioneer in her chosen field of plumbing, Bennett holds a special place in the history of Michigan women in construction.
As a woman who did not even know she wanted to work in construction, Bennett got into the business when she was approached by the legendary youth mentor and job trainer Gus Dowels, who told her, "I need a woman who can get something done." And the rest, she said, is history.
Forty-two years later, Bennett says her greatest accomplishment was "being anointed by God to crush the glass ceiling as America's first female Licensed Master Plumber and plumbing contractor," adding, she also endeavors "to mentor, inspire, train, educate, and retain the next generation's workforce with a secure lifetime career."
Women Rising
Bennett's sentiments about the glass ceiling and women in construction are echoed by other women in construction who are not only proud of how far they have come but are eager to bring other women up with them.
And slowly, but surely, it is happening. Higgins says her experience as a heavy equipment operator has been especially encouraging to her, as more and more women join her field.
"I'm seeing it already and love it!" said Higgins. "When I first started there was one (awesome!!) female roller operator and I was the only female laborer. Last year we had a total of six! I'm sure that number will continue to grow."
Owen agrees, and reports seeing increased numbers of women in her daily work as well, including women working in state government at the Michigan Department of Transportation (MDOT).
"I was part of an MDOT project on the west side of the state several years ago," she recalled. "As we sat down to a progress meeting, I looked around the room and realized for the first time in my career (over 20 years at that point) the women out numbered the men, between the MDOT engineers, consultants, subcontractors and myself, (and) the project manager for the prime contractor."
To Chartier, it may also be something whose time has simply come because the next generations will take it on with a vengeance.
"I think that with our new generations coming into play (Millennials and Generation X) there will be more glass ceilings shattered and more women feeling empowered enough to do the unexpected, like joining a male-dominated field just to prove them all wrong!"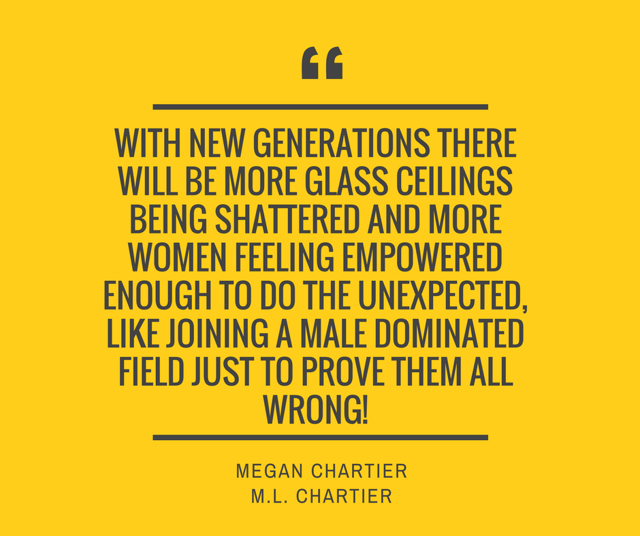 No matter the path or the work or the training, women with successful construction careers, speak with one voice when they offer advice about starting a construction industry career. As Bennett put it, "Set a goal, be/get qualified, work hard, stay focused, and NEVER give up on something you really want."
Find out more about career opportunities for women in the construction industry and be a part of rebuilding for Michigan's future!