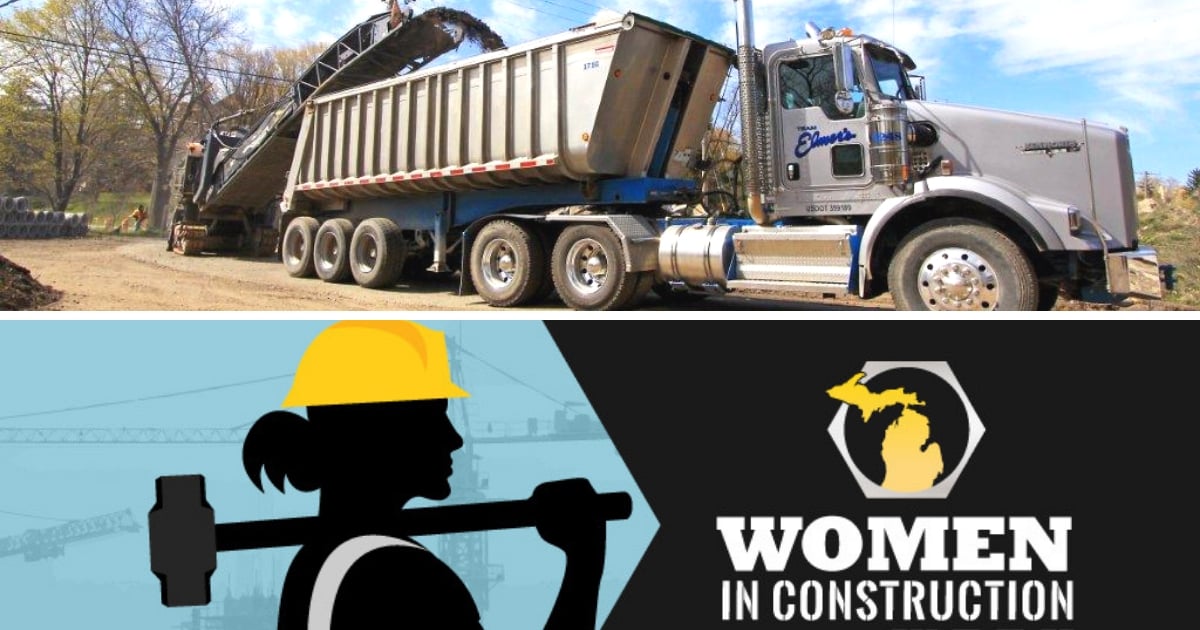 In northern Michigan, Team Elmer's is practically a household name as one of the largest, oldest and most respected construction firms in the area. Providing excavation, concrete, Esphalt™, aggregate, heavy hauling, and crane and rigging services, Team Elmer's makes a point of hiring great people who love their jobs.
That includes some pretty exceptional women who are driving hard (literally) to prove women have what it takes to make a career behind the wheel of a multi-ton construction vehicle.The proof is in the driving
Take Aurora Walsh, for example. She might never have thought of driving heavy equipment, except that one day while working on a farm, she was told to drive a truckload of hogs to market. When she succeeded, it occurred to her that she had just done something special. Even though a friend had earlier mentioned she might make a good truck driver, actually doing it sparked a fire that became her career.
"I got paid my regular wage to deliver these hogs and it clicked ... I can really do this," Walsh recalled. "There will always be a market for something to get moved from point A to point B. Plus, everything else I did prior to truck driving was so physically demanding. As long as I can keep myself and those around me safe, I could make this a career. So I did .. and my friend was right. Kudos to him!"
Walsh takes pride in not only safely driving some of the heaviest equipment on the road, she also tries to spread good cheer along the way.
"What do I do at my amazing job? Mostly I make people smile, and try to make their very long day a little shorter," she said, further explaining exactly what types of trucks she normally drives.
"I drive gravel trains and live bottoms. Trains are two big dump trailers that have to be hooked and unhooked to be dumped separately. When I'm not in my trains I am in a live bottom. Live bottoms are single-trailer long in length, with a wide belt that moves with the material on it to bring the material from the front of the trailer to the back to unload. They call them live bottoms because the floor of the trailer (belt) moves. Unlike a train these trailers do not tilt up in the air."
Among the many stops and jobs Walsh handles in a day is stocking Team Elmer's yards with material for customers or for company plants to make products. She also makes private deliveries and goes to job sites with the required material for what is being built that day, usually a road or building. When driving a live bottom, Walsh is primarily hauling Esphalt™.
"But I do haul material with them to stock our yards between loads to jobs that require Esphalt™," she said.
Looking back at her decision to try driving in construction, Walsh admits she wanted to prove to everyone that she had the stuff; that she could do it.
"My family all told me I couldn't do it … and if anyone knows me they know how hard headed and stubborn I can truly be. So of course I had to prove them all wrong and here I am, killing it!"
Speaking of horsepower, when she's not behind the wheel of a big rig, Aurora is literally in the saddle, mentoring troubled youth, using horses as a therapy method to help them gain life skills. "Horses level the playing field", she says. "You get back what you put in."
Pretty in pink
Another amazing woman at Team Elmer's is Vicky Long. If you've been around the Traverse City area for some of the many events that take place there, you have probably seen Long. She's the one driving the bright pink concrete mixer with "Fight Like a Girl" written on the side over a dark pink breast cancer awareness ribbon.
The pink paint job came about when her mixer needed a paint job and she suggested pink. Before long the truck became an ambassador for the campaign to cure breast cancer and turned out to be quite a show stopper.
"When the truck first came out, I had people out in their yards doing double takes. I had people taking pictures of me on the expressway and following me off the expressway when I had to stop at a gas station," recalled Long. "I had people going by honking their horns and giving me the thumbs up. Even Harley bike riders were giving me the thumbs up when a big group would go by."
Long also started her heavy equipment career outside the construction industry, beginning as a garbage truck driver. Her cousin dared her to try it. The rest is history.
"On a dare I started driving a garbage truck in 1978 and came (to Team Elmer's) in 1996. So this is my 22nd summer driving for Elmer's and my 39th year driving a truck."
Describing her gigantic pink truck, Long acknowledges its size makes it special.
"This is a front-dump Oshkosh, 11-yard truck, automatic. It's pretty easy … it's just something big!"
Long not only drives the concrete mixer, she also has to know how to assess each project for the concrete needed, and other factors like how to deliver on time to the pour site or to another vehicle that will transport it to the pour site.
When not delivering concrete, Long and her ambassador concrete mixer head out to different Relay for Life events and parades at area festivals. In October, Breast Cancer Awareness Month, Long is extra busy, trying to take the truck everywhere and anywhere it can spread hope.
"This truck has become like a healing tool. It's something they can touch," said Long. "But the most important thing about driving this truck is making people aware to get their checkups, follow up, and just do it!"