GD Top Notch Cleaning Service Inc. is a leader in the construction cleaning industry. Founder Gale Glickoff started as a licensed builder, but saw an opportunity within the construction industry in the cleaning sector. She took advantage and has been thriving ever since.
Construction companies need internal cleaning crews or external janitorial companies to clean the worksites. But in reality, construction companies benefit more when they have the work done properly, by a knowledgeable and experienced team that specializes in construction cleaning services.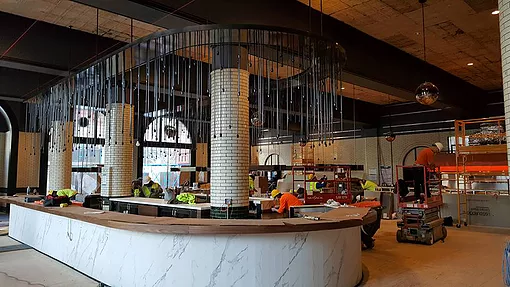 GD Top Notch has provided construction clean up services for commercial properties since 1992, and recognizes the industry for what is it, a skilled trade. They provide expert cleaning services during the construction process for all types of facilities: newly built, remodeled or historic preservation properties, and help organize, orchestrate, and accelerate the project while keeping the job stress free for all the working trades that are involved.
The level of process and material knowledge required to do this kind of work is what makes it a skilled trade, and GD Top Notch takes pride in training and preparing their employees with their very own construction cleaning curriculum. A curriculum like none other in the industry, teaches not just how to properly clean and preserve buildings, but teaches all of the necessary clearing procedures needed during a rough or final clean. GD Top Notch works with training providers to make sure their skilled trade workers are equipped with their OSHA, fall protection, HAZMAT and additional certifications as necessary. From glass windows to historic 250 year old wood floors, each project requires special care and knowledge of the best way to clean and complete the project.
Lisa Glickoff and COO at GD Top Notch explains, "We teach every phase of construction. New construction cleaning technicians gain valuable skills that they may be able to utilize in other skilled construction careers, making them a valuable asset to the industry."
Ultimately, the Glickoffs' goal is to get their construction cleaning curriculum into all workforce development programs, and make this type of skilled trade available to those who may not be the right fit for trades like electrician, plumbing, construction management, etc.
GD Top Notch is an established and growing company. With a mandatory 40 hours of training you can be on your way to working in some of the biggest construction jobs across Michigan. "We were the last trade in the Little Caesars Arena before it gets turned over," Lisa Glickoff explained.
Other types of projects include: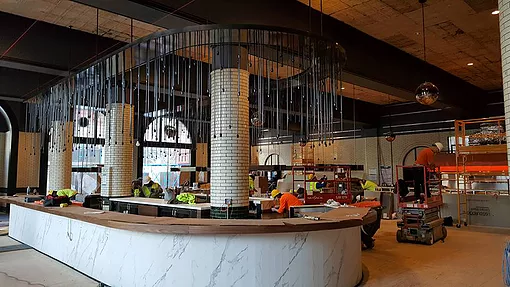 restaurants, schools, arenas, assisted living facilities, retail stores, grocery stores, apartment complexes, hotels and more.
While each cleaning project may be different, they are all equally important. GD Top Notch does work for all types of businesses, and is a company that knows the importance of giving back. "A couple times a year we will clean properties at no charge," Lisa explains. Right now GD Top Notch is located in Michigan, and will travel up to 4-5 hours away to perform a job. They are a fast growing and innovative company, with goals to franchise their services outside of Michigan and the Mid-West.
If you're interested in learning more about this industry, click the button below.