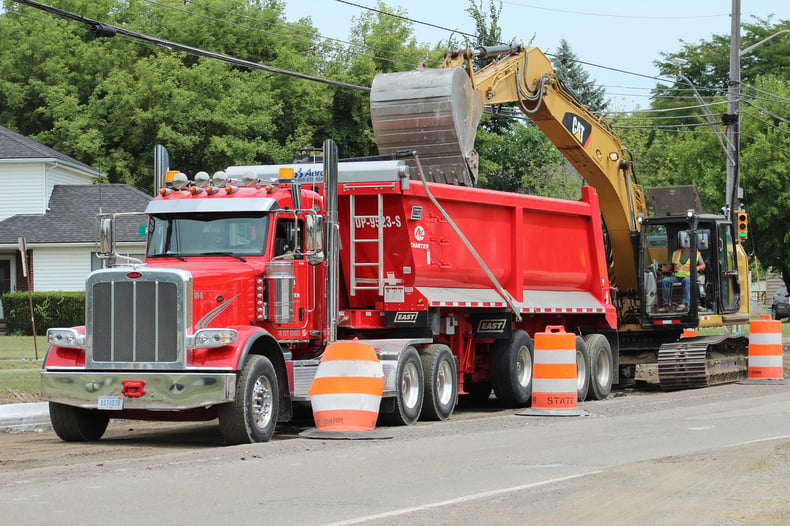 Does your office cubicle make you feel confined? Are you ready for a new adventure that doesn't involve racking up a bunch of debt? Construction truck drivers in Michigan earn between $30,000 and $70,000+ annually, all while traveling the highways, seeing new sites and meeting new people. They may even get to watch the sunrise and set across the beautiful Great Lakes State.
What Do Truck Drivers Do?
Construction truck drivers get to operate a wide range of heavy equipment vehicles including fuel trucks, dump trucks, gravel trains, live bottom dumps, concrete mixer trucks, concrete pump trucks, cement bulkers, etc. In contrast to an "Over the Road" or "Semi" truck driver, Construction truck driver routes are primarily location based and local to the surrounding areas, which means that you get to be home at night.
Most employers want applicants who are at least 18-years-old.
What many people don't know is that beginning a career as a truck driver in Michigan takes very little time and usually yields a big return on investment.
How to Become a Truck Driver in Michigan
A commercial driver license (CDL) is required to operate large, heavy vehicles in commerce. You must be 21-years-old or older in order to drive a commercial vehicle across state lines. If you're between ages 18 and 21, you'll be restricted to driving within Michigan state lines.
To apply for a CDL, you'll first need a Commercial Learner's Permit (CLP). To get a CLP, visit your local Secretary of State office and provide them with:
Proof of a valid Social Security number
Proof of Legal Presence in the United States
The Secretary of State will ask you a few general health questions as part of the CDL screening procedure. You'll also be given a vision test and written test that you'll be required to pass in order to obtain your CDL permit.
Once you have your permit, you can start working towards the real deal. You'll need to pass a 3-part exam that includes a knowledge test, an endorsement test and a skills test. All three tests must be taken at the same time. There is a $25 fee to obtain a license. Click here to learn more.
Truck Driver Training in Michigan
If you don't already have experience driving commercially, going to a truck driving training school can make the process for applying for a CDL much smoother. According to alltrucking.com, Michigan has 55 trucking schools in Michigan that offer programs ranging in length from four weeks to 12 weeks. Click here to view a selection of them on our website.
Tuition averages at $7,347, but the average scholarship award is around $2,000. Once you've completed your trucking education, get ready for a rewarding career where no two days are the same!
There are now many companies that "sponsor" and/or pay for the training and testing to receive a CDL.
How Much Do Truck Drivers Make?
According to Indeed.com, the average salary for a truck driver in Michigan is $1,099 per week, which is 9 percent above the national average. Indeed also estimates that the average annual salary for a truck driver in the Detroit-area is $73,308, which is 6 percent higher than the national average. In the Lansing-area, the annual salary is estimated at $66,757, similarly to Grand Rapids which is listed at $66,417.
Truck Driver Employers in Michigan
There are a number of our Michigan Construction Partners that have open positions available within their organization. Click here for a list companies that offer employment opportunities in for truck drivers in Michigan.