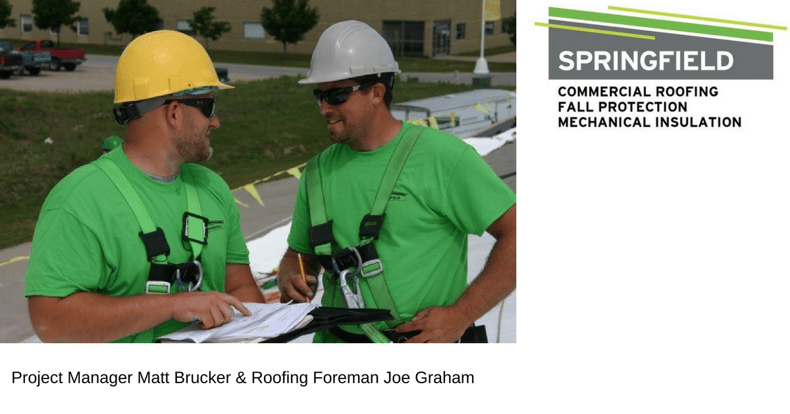 Springfield Inc. began in 1985 as a small roofing company and one of the first installers of Duro-Last roofing systems before evolving into a complete commercial and industrial service company. To meet the needs of clients, they have expanded their services to include not only roof repair and installation, but also a patented mechanical insulation system, daylighting systems, as well as the design, engineering, and installation of custom safety equipment.
Even though their capabilities have expanded, their expertise and quality in the roofing industry have continued to improve. Since 1997, they have been awarded the Elite or Platinum Contractor Award by Duro-Last Roofing for an average quality score of 99 out of 100. This continuous upward trend is attributed to their commitment to an in-house training program for field technicians.
In 2008, Springfield received their first patent for the SmartShield™ mechanical insulation system which provides a longer lasting and higher performing pipe and duct wrap system than the more commonly used techniques. Leading national food processors have benefited from not only the strong performance and longevity of SmartShield™, but also its ability to seamlessly integrate into their roof system.
Springfield, Inc.'s experience in roofing and working at height helped them become experts in fall protection solutions. In the early years of their safety division, they would take their concepts and designs to an outside firm for engineering and final design before performing the construction and annual inspections themselves. As their services evolved, they have been able to save clients time and money by adding their team of engineers led by a Structural Engineer to develop and finalize the designs. They have also added fall protection training, both equipment specific and general awareness, for clients. In, 2016 Springfield was awarded patents for the LadderAnchor™ and LadderBracket™ ladder security devices. These products help reduce the risks associated with mounting and dismounting the ladder, which is statistically the time in which the user is most susceptible to falls.
Being the friendliest and most dependable service company that their clients partner with has led to years of helping Michigan businesses improve the efficiency of their facilities, boost employee morale and increase their bottom line.
As for their partnership with Michigan Construction, this is what Springfield, Inc. has to say: "We are so excited to be a part of the Michigan Construction movement because we want to raise awareness about construction as a highly regarded after high school career choice. We want to highlight the importance of working with your brain and your tool pouches. Opportunities in construction offer the ability to be outside every day and have amazing 'office views' without thousands of dollars of student debt."
To learn more about Springfield, Inc. and view their current job openings, click below.