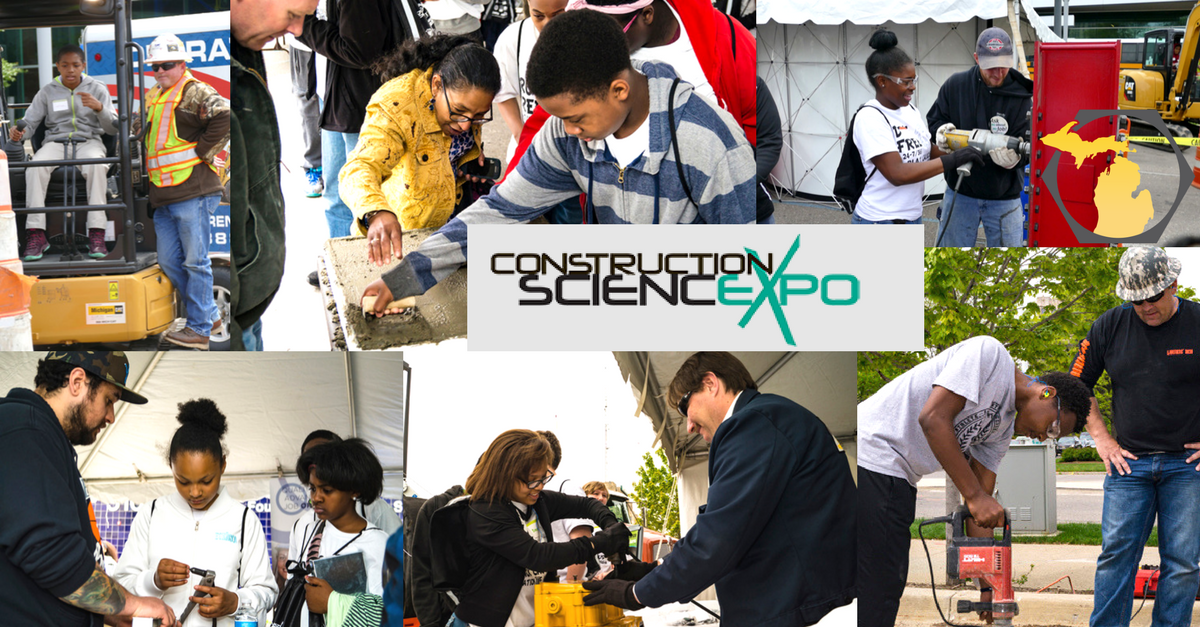 DETROIT - Tuesday May 22, 2018
Detroit middle & high school students will experience one of the best school field trips of the year: The 8th annual Construction Science Expo ! Working alongside skilled labor apprentices and trainers and using their problem-solving strategies in construction design, they should visually and physically see why these types of occupations in this industry are growing faster than all others at a rate which is expected to continue through 2026*.
Over 6,000 students have been invited to this annual hands-on expo over the last 7 years through the Detroit schools "Navigation to Success" Program run by the Black Caucus Foundation, with more than 50 activities presented by over 25 industry professionals. An Expo that Doug Needham, President of the Michigan Aggregates Association and committee co-leader, says is "the avenue where we have consistently brought together both skilled trades and construction design industry experts to create a pathway to future employment for these young people. We are invested in their future and ours."
Video:
They will:
● Operate heavy machinery like mini-excavators and a top-of-the line Spydercrane.
● Work with 12 inch trowels, grout and bricks along side bricklayers and mason apprentices.
● Rivet steel with full-size power tools
● Build bridges using CAD 3D software
● Challenge skilled carpenters in a nail driving contests and learn about tool safety
Media Event
At 10:00 am May 22, the media is invited to a kick off the event in the front of the science center, with the sounds of construction happening in the background and hundreds of students participating in hands-on activities. State and city dignitaries, company leaders and current students will briefly comment on the talent gap and how they plan to help continue to inspire Detroit's youth with opportunities to start realistic and financially viable careers in this industry. The coalition seeks to connect students to this industry by bringing awareness about the volume of options in the construction profession and reality of collaboration of labor and design in construction.
Held annually at the MI Science Center, transportation and labor skills are identified through MDOT's Road to Work program, the latest technology and current standards are showcased by civil and design engineers and students will get to operate excavators, cranes or use heavy machinery simulators, to inspire them to plan for a future with one of the many participating employers, engineering companies, union training centers, associations and colleges that work together to create the big picture of this well-paying and high demand industry.
Among the members of the coalition organizing the Construction Science Expo are multiple Michigan Construction partners. Including Michigan Infrastructure & Transportation Association (MITA), Michigan Concrete Association, Cadillac Asphalt, OE 324, Walbridge, the Asphalt Paving Association of Michigan, Pathway X Events and the Michigan Department of Transportation.
Other sponsors include: The Black Caucus Foundation of Michigan, ACEC, AEW, ASCE, Levy Corp, LiUNA, MAA, OHM, HNTB & CBTS.
Learn more about the Construction Science Expo and how your company or organization can get involved with teaching the construction workers of tomorrow!